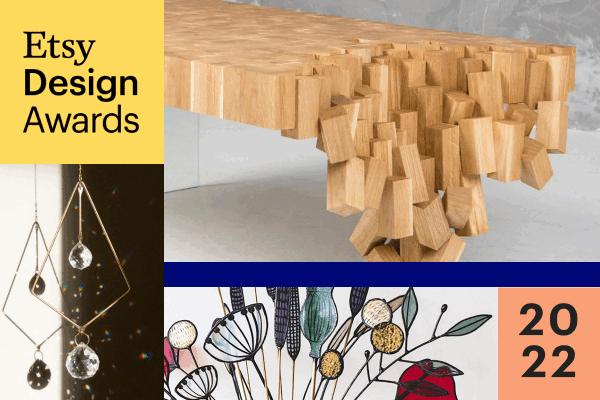 Thanks for entering
Our annual program honors the talent of our sellers, spotlighting their work internationally to our creative community, with a mission of celebrating and investing in independent entrepreneurship.

Submitting your shop for an award is a big deal—thanks for entering and good luck!

Finalists will be announced in June 2022 and Winners will be announced in July 2022.

For details on next steps and tips for keeping your shop in tip-top shape, visit our 2022 Etsy Design Awards Seller Guide.

If you live in North America or South America, this email is sent by Etsy, Inc., 117 Adams Street, Brooklyn, NY, 11201, US; if you live elsewhere, this email is sent by Etsy Ireland UC, a subsidiary of Etsy, Inc., 66/67 Great Strand Street, Dublin 1, D01 RW84, Ireland having company registration number 495696 and VAT registration number IE9777587C.
Copyright 2021 Etsy, Inc., an affiliate of Etsy Ireland UC. All rights reserved.